Pomegranate
Enriched with the nourishing effects of Pomegranate extracts, this body wash helps relieve inflammation, minimizes acne formation, and keeps your skin healthy and glowing.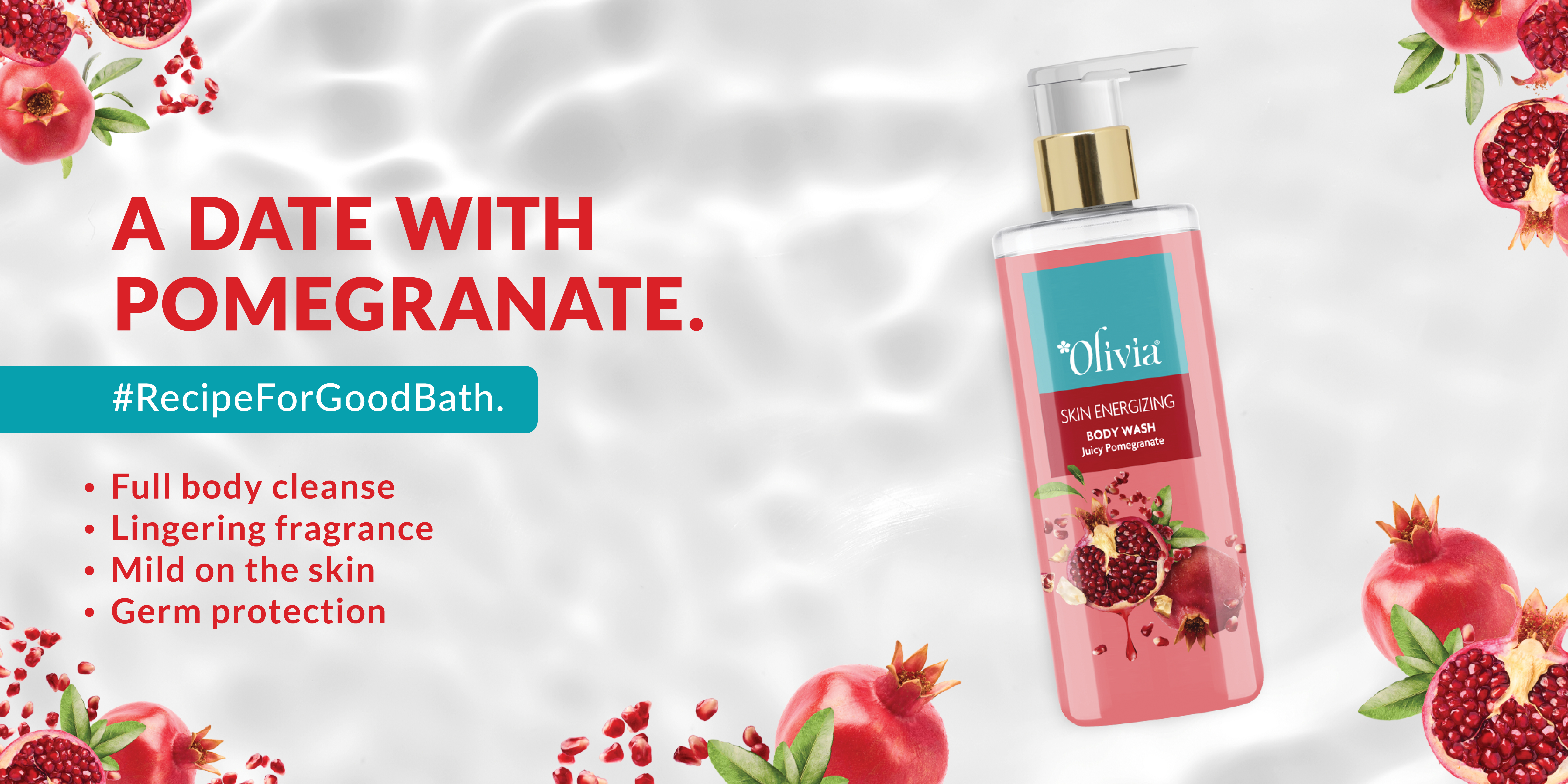 Juicy Pomegranate Skin Energizing Body Wash:
Feel the goodness of pomegranate for a younger-looking, smooth and healthy skin. The captivating body wash provides protection to the skin against UV damage caused by sun rays. It is a rich source of B-vitamins, citric acid, anthocyanins that deeply hydrate and improve your skin tone. So, use this body wash daily and let your skin smile, always!
Soap-free Formula For Smooth Skin!
Germ protection: Its immune-boosting nutrients keep the skin protected from germs.
Enhances skin glow:  The intense levels of Vitamin C gives skin a fresh and radiant glow.
Brightens the skin tone:  It nourishes skin, lightens blemishes and enhances the skin tone.

Infused with Natural Goodness:
Pomegranate is known to relieve inflammation and minimize acne formation. It contains Vitamin C that has powerful anti-inflammatory and antioxidant properties. It also protects the skin from the harmful effects of sun rays.
BENEFITS OF POMEGRANATE BODY WASH
Its environmental protection properties protect you from the harmful effects of environment like germs and dust.

It provides a good source of Vitamin C to the skin and thus helps in treating dull and dry skin, giving you a youthful glow from within.

The polyphenols present in Pomegranate act as a natural moisturizer ad keep your skin hydrated.

Since it has Vitamin C, it also alleviates pimples and blemishes and keeps your skin glowing.
HOW TO USE OLIVIA POMEGRANATE BODY WASH?
Do a quick rinse to wet your skin.

Lather up with a few drops of Olivia Tone Brightening Body Wash, gently working your way from top to bottom in a circular motion.

Rinse off with water.
FAQs
How is this body wash different from soap?
This pomegranate body wash is made from natural ingredients and thus milder than soaps. It is free from harmful chemicals.
Can the body wash be used with cold showers?
Yes, but a shower with lukewarm water is recommended as it opens the pores and body wash best works on the skin then.
Can I use this body wash if I have oily skin?
Yes. This face wash is suitable for all skin types.
What is the shelf life of this turmeric body wash?
It has a shelf life of 18-24 months.