Skin Calming Body Wash with Sweet Lavender
Olivia

Why settle for less when you have the power to get what you want?

 

There's a lot that can be said about a beauty brand. But in the present day and age, with the steady rise of the conscious consumer, nothing but actions will prove to be consequential. And that's what Olivia has been focusing on for over 2 decades.

 

We believe that a brand's true and genuine foundations lie in the principles it was brought to life on. For Olivia, ours is deeply rooted in nature and its bounty while we keep our eyes on the ever-expanding horizon of scientific and technological advancements in beauty. This foundation has evolved into a
permeative belief system that has guided us in the past and keeps steering us forward as we feed our curiosity about customer demands, market trends, and the
love of everything beautiful.

Now, we want to introduce ourselves for you to know us a bit better.
SKU:
Olivia-Lavender-BWash-250ml
Lavender
Enriched with the goodness of Lavender extracts, this body wash lightens and soothes your skin and gives you a stress-free experience.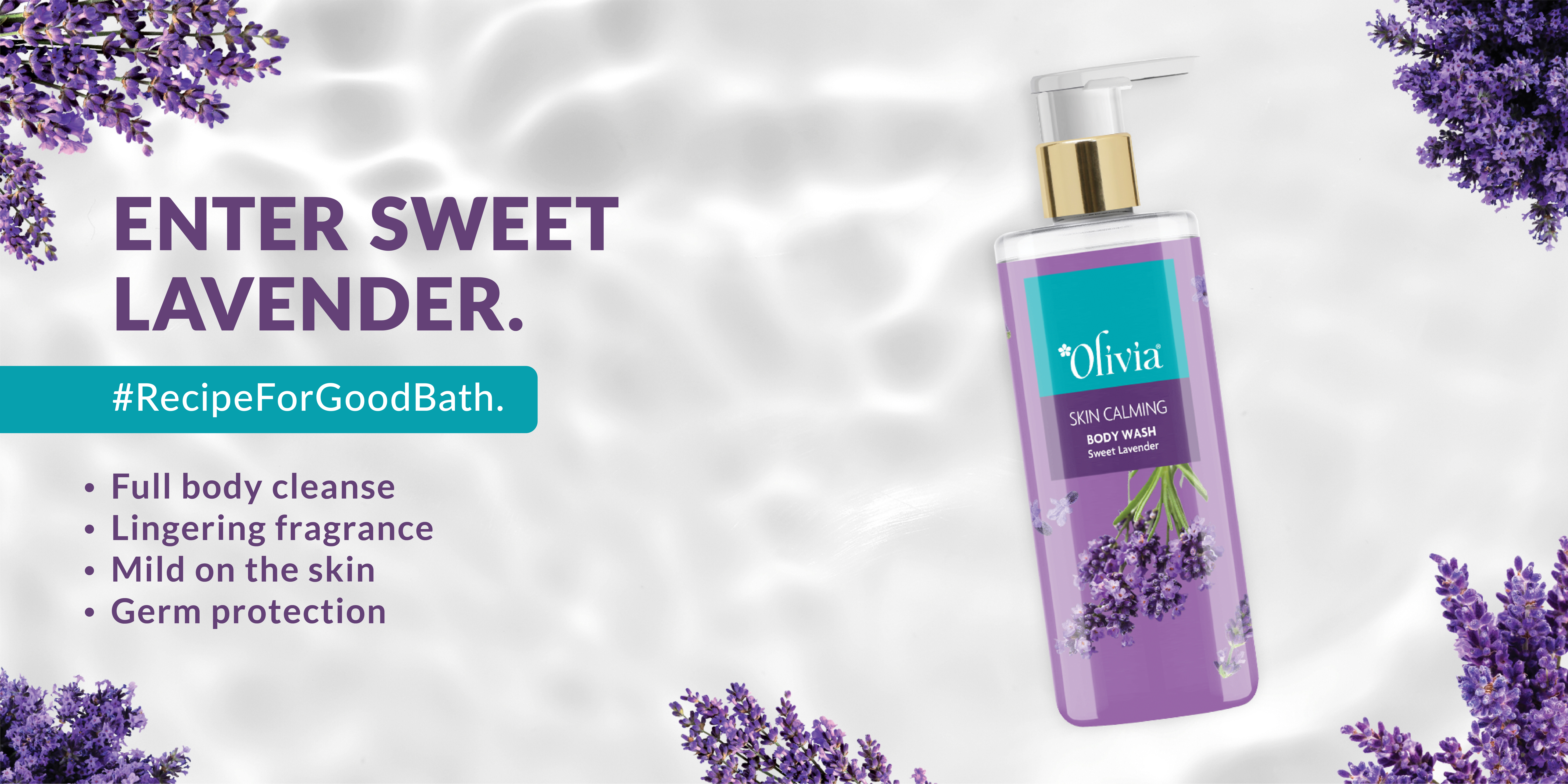 Sweet Lavender Skin Calming Body Wash
Do keep them guessing your age as they get awestruck seeing your glowing skin! Embrace the goodness of Olivia's Lavender Body Wash which soothes your skin, leaving you with a fresh and stress-free feeling. This rejuvenating youthful body wash can be a go-to product for younger-looking skin. So, kickstart your morning grooming routine with our Lavender Body wash that perfectly works on all skin types.
A calming sensation from head to toe!
Hydrates your skin: Lavender balances the moisture levels in your skin and is a natural hydrator.

Evens out the skin: It reduces discoloration of the skin and gives it a beautiful even tone.
Calms inflammation : Lavender's natural anti-inflammatory properties help soothe the skin and reduce inflammation. 


 Infused with Natural Goodness
Lavender is a natural anti-bacterial and kills acne-causing bacteria. It also helps open up pores that are clogged and reduces inflammation. Lavender also nourishes and hydrates skin, keeping its moisture intact, so you can enjoy soft, smoother, and healthy skin, all day long. 
Benefits of Lavender Body Wash
Olivia's Lavender Body Wash makes for an ultimate self-care remedy to clean, moisturize, hydrate, and soothe your skin.

Our body wash removes the sebum and skin sweat which are the root causes of acne breakouts.

A rich source of antioxidants, it heals and repairs the skin from within.

It imparts a youthful glow to the skin and keeps your skin rejuvenated.

 
How To Use Olivia Lavender Body Wash?
Do a quick rinse to wet your skin.

Lather up with a few drops of Olivia Tone Brightening Body Wash, gently working your way from top to bottom in a circular motion.

Rinse off with water.
FAQs
-  Who can use this Lavender Body wash?
Anyone above the age group of 12 years can use this body wash
 - How many times should I use this body wash?
You can use it while bathing to remove dirt from your skin and give it a natural glow.
 - Can I use a moisturizer after applying this body wash?
Yes. You can apply a moisturizer post applying this body wash.
- When will I see the desired results?
Natural products are effective after long-term usage. You need to use this body wash consistently for 8-10 weeks to see the desired results.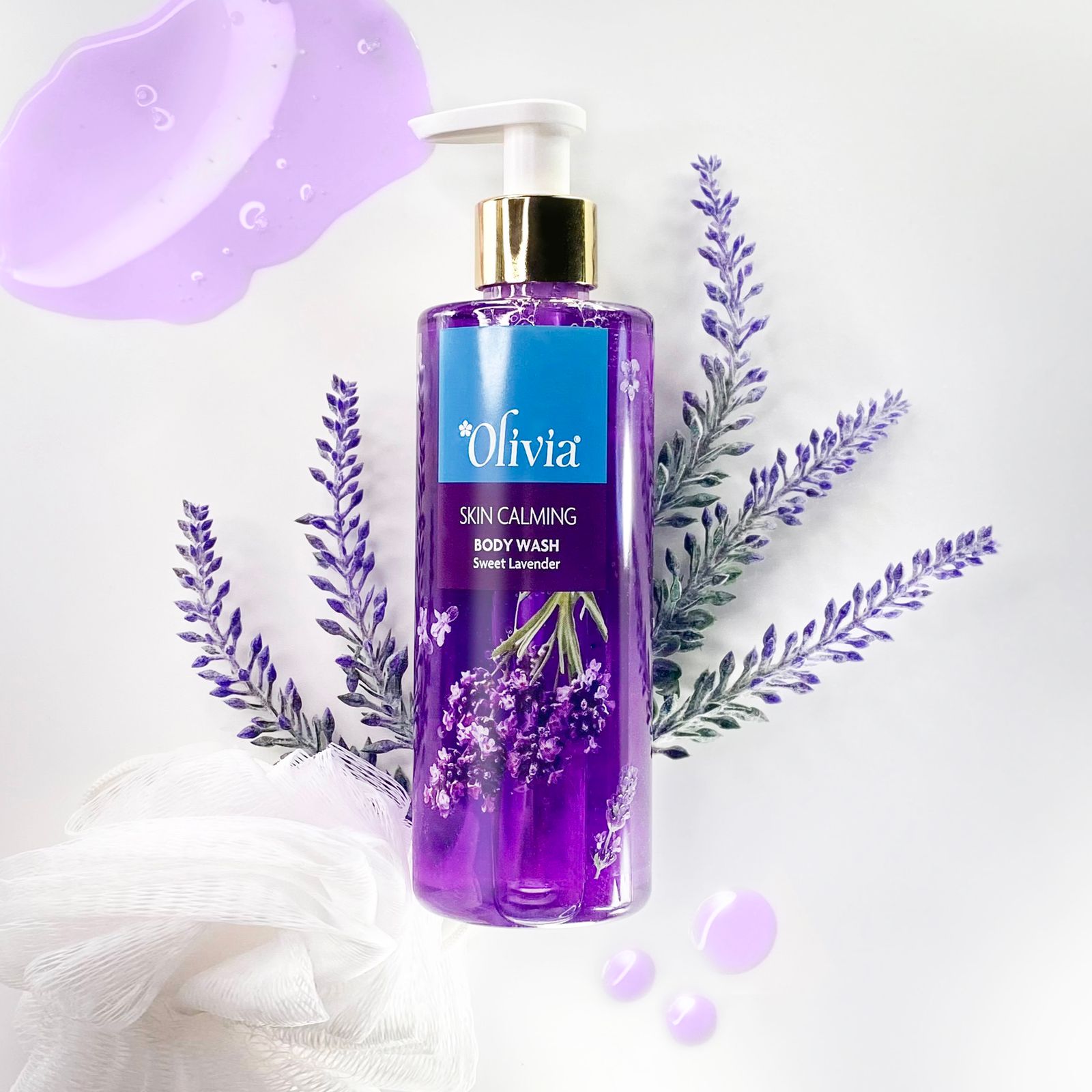 Bathing sensation rejuvenation
This is my favorite body wash in Indian body wash segment available in India today.
Its more than worth it's price. Have already completed four pack of this.
It just give a new you post bathing.
Worth the money!
I used the Lavender Body Gel and I have to say that I have felt my skin has began to feel softer. The best thing about this gel, is that it has a really refreshing fragrance and it lasts for really long.
Must Buy!
Amazing Fragrance. Best Body Wash from Olivia.