Clarifying Face Cleansing Foam with Bergamot
Olivia

Why settle for less when you have the power to get what you want?

 

There's a lot that can be said about a beauty brand. But in the present day and age, with the steady rise of the conscious consumer, nothing but actions will prove to be consequential. And that's what Olivia has been focusing on for over 2 decades.

 

We believe that a brand's true and genuine foundations lie in the principles it was brought to life on. For Olivia, ours is deeply rooted in nature and its bounty while we keep our eyes on the ever-expanding horizon of scientific and technological advancements in beauty. This foundation has evolved into a
permeative belief system that has guided us in the past and keeps steering us forward as we feed our curiosity about customer demands, market trends, and the
love of everything beautiful.

Now, we want to introduce ourselves for you to know us a bit better.
SKU:
Olivia-Bergamot-CleanFoam-150ml
Bergamot Cleansing Foam 
Clarifying Cleansing Foam with Bergamot essential oil is known to stimulate skin cell renewal and has anti-bacterial and anti-inflammatory properties that protect your skin from infections and give it a soothing-aromatic feel.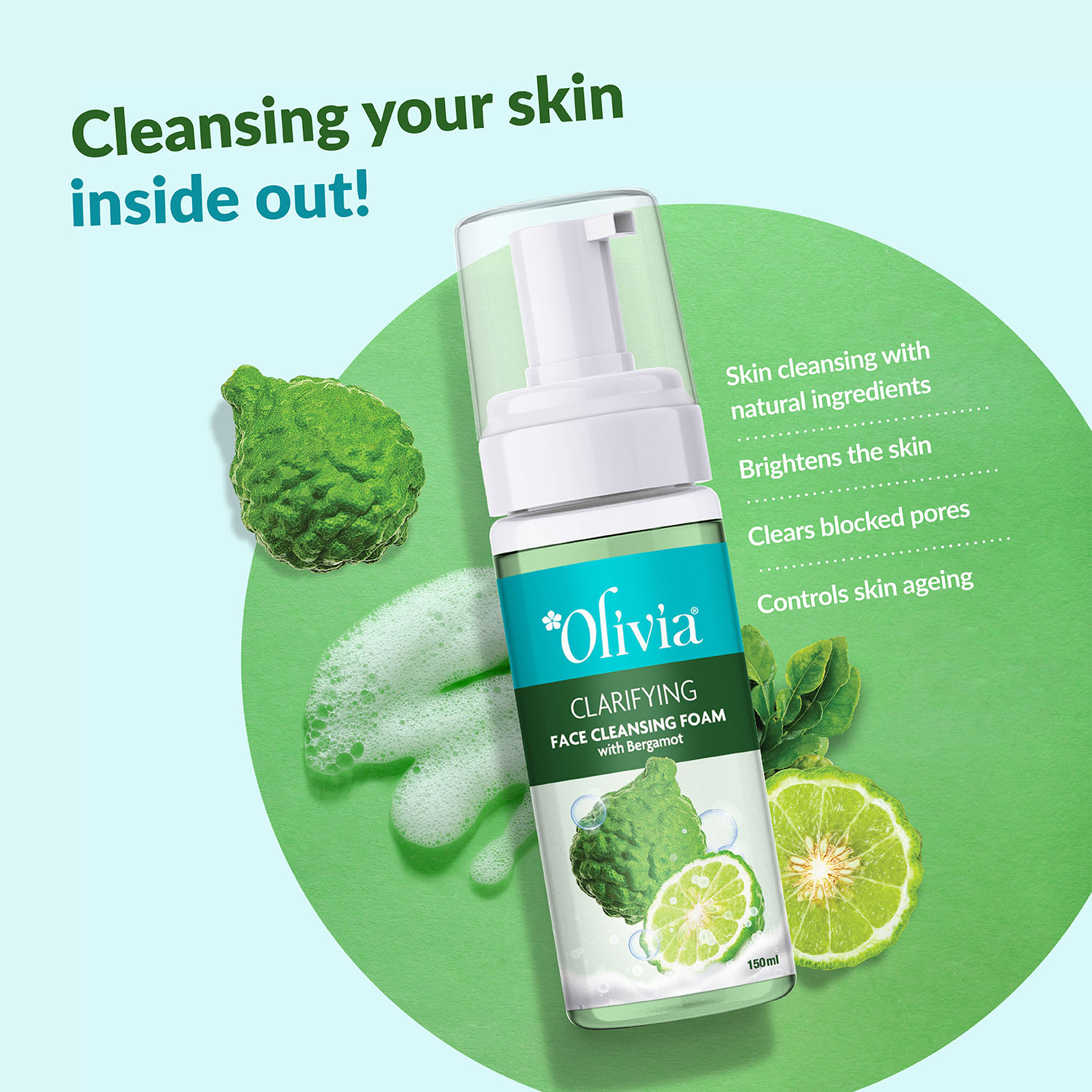 Healthy Skin Inside, Glowing Outside!
Frothy foam enriched with the goodness of Bergamot essential oil - that's Olivia's Clarifying Face Cleansing Foam for you! It is loaded with nutrients that brighten your skin, balance oiliness and heal acne scars. It can also remove makeup from your skin and works like a magic. Our Clarifying Face Cleansing Foam is just the breath of freshness your skin needs. What's more? Only the goodness of natural ingredients, no harmful colour or harmful chemicals, no soap.
Natural Skin Cleansing:  Bergamot makes dryness and dust vanish
Brightens the Skin:  Nutrients that brighten your skin
Clears Blocked Pores:  Balances oiliness and also heals acne scars

Foamyyy goodness!
Olivia's Hydrating Face Cleansing Foam is formulated with Bergamot essential oil. It is astringent and has antibacterial and antiseptic properties. It gives your skin a soothing aromatic feel every day.
BENEFITS OF OLIVIA CLARIFYING FACE CLEANSING FOAM
Bergamot has antibacterial and antioxidant properties. It protects your skin from infections and clears off dryness and dust.

The presence of active compounds in Bergamot oil namely limonene, linalool and more facilitates healing and soothes wounds.

The cleansing foam improves complexion by brightening the skin and clearing blocked pores.

It also calms, rejuvenates your skin and controls signs of ageing.
HOW TO USE OLIVIA CLARIFYING FACE CLEANSING FOAM?
Wet. Massage. Rinse. Dry!
Wet your face with warm water.

Massage the foam all over your face and neck to cleanse your skin.

Rinse off the cleansing with warm water.

Pat dry your face.
FAQ's
Is it a water-based cleanser or oil-based?
This Clarifying Face Cleansing Foam is an oil-based cleanser made of Bergamot essential oil.
Can I use it as a facewash?

Yes. You can even use it as your daily face wash as it is gentle on your face and brightens it.
 I frequently have oily acne scars. Can I use this product?
Yes. You can use this cleansing foam to balance oiliness and also heal acne scars.