Ultra Protect ++ Sunscreen with Chamomile and Licorice SPF 50
Olivia

Why settle for less when you have the power to get what you want?

 

There's a lot that can be said about a beauty brand. But in the present day and age, with the steady rise of the conscious consumer, nothing but actions will prove to be consequential. And that's what Olivia has been focusing on for over 2 decades.

 

We believe that a brand's true and genuine foundations lie in the principles it was brought to life on. For Olivia, ours is deeply rooted in nature and its bounty while we keep our eyes on the ever-expanding horizon of scientific and technological advancements in beauty. This foundation has evolved into a
permeative belief system that has guided us in the past and keeps steering us forward as we feed our curiosity about customer demands, market trends, and the
love of everything beautiful.

Now, we want to introduce ourselves for you to know us a bit better.
SKU:
Olivia-50SPF-Sunscreen-50g
SPF - 50
 Protect your skin from UVA and UVB rays with this lightweight sunscreen. It is easy to spread and helps keep your skin glowing and moisturized all through the day.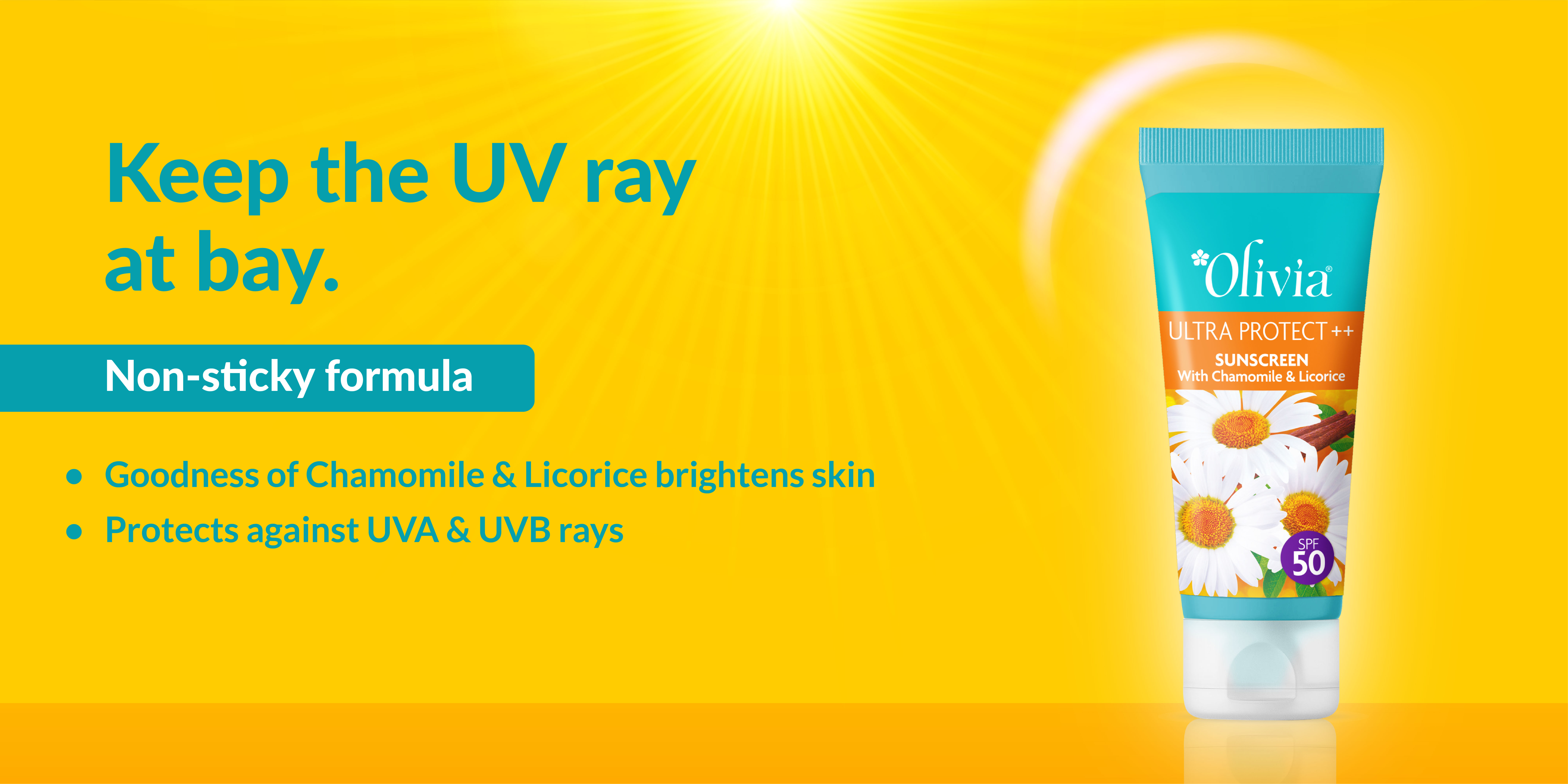 SPF-50
On sunny days, be it hot summers or freezing winters, your smooth skin needs protection from sunlight. That's where the SPF-50 Sunscreen from Olivia comes handy! The lightweight texture of this sunscreen spreads easily on your skin giving you a well moisturized and radiant glow. Loaded with essential antioxidants, it evens your skin tone and alleviates the damage caused by UV exposure.
Sunning Made Damage-free
Sun Protection: Filters harmful UVA and UVB rays and protects against its effects on the skin
Evens the Skin Tone: Chamomile and Licorice extracts brighten the skin and give a radiant glow
Moisturizes your skin : Keeps your skin moisturized all through the day

Replete With Natural Goodness
Olivia's Ultra Protect Plus Sunscreen with SPF-50 is infused with the goodness of Chamomile and Licorice extracts, Vitamin E, Glycerin and other nutrients. It is the ultimate sunscreen to protect, moisturize and rejuvenate your skin.
BENEFITS OF OLIVIA ULTRA PROTECT PLUS SUNSCREEN WITH CHAMOMILE, LICORICE, AND SPF-50
Chamomile contains powerful antioxidants that protect your skin from free radical damage.

Licorice is a skin-friendly ingredient known to have a soothing effect on your skin. It heals skin inflammation.

The sunscreen also contains Glycerin that refreshes the skin, increases skin hydration, and relieves dryness.
The formulation is a perfect balance of Physical sunscreen and Chemical sunscreen to provide protection from UVA and UVB rays.
HOW TO USE OLIVIA ULTRA PROTECT PLUS SUNSCREEN WITH SPF 50?
Apply a generous amount of sunscreen on your face and neck 15 minutes prior to sun exposure.

Reapply if spending long hours in the sun.
Use regularly to protect your skin from the ill effects of sun rays.
FAQs
Does it leave behind a whitecast?
No. Since the Olivia sunscreen is a lightweight formulation, it has a non-sticky and no-chalky texture that does not leave behind any white cast.
What is the shelf life of this sunscreen?
Olivia Ultra Protect Plus Sunscreen with SPF 50 has a shelf life of 18 months.
Can I use this sunscreen after applying a moisturizer?
Yes. You can use this sunscreen after applying moisturizer for optimal skin protection. Moreover, sunscreen will always keep your skin hydrated and glowing.
When will I get this sunscreen if I order it today?
You will get this product within 4-7 days from the date of purchase.