Passion Fruit
Clarifying Hydrating FaceCleansing Foam contains the nutritionally balanced Passion Fruit which gives your skin much-needed hydration. It reduces irritation and gives your skin a relaxing, cool-pleasant feeling.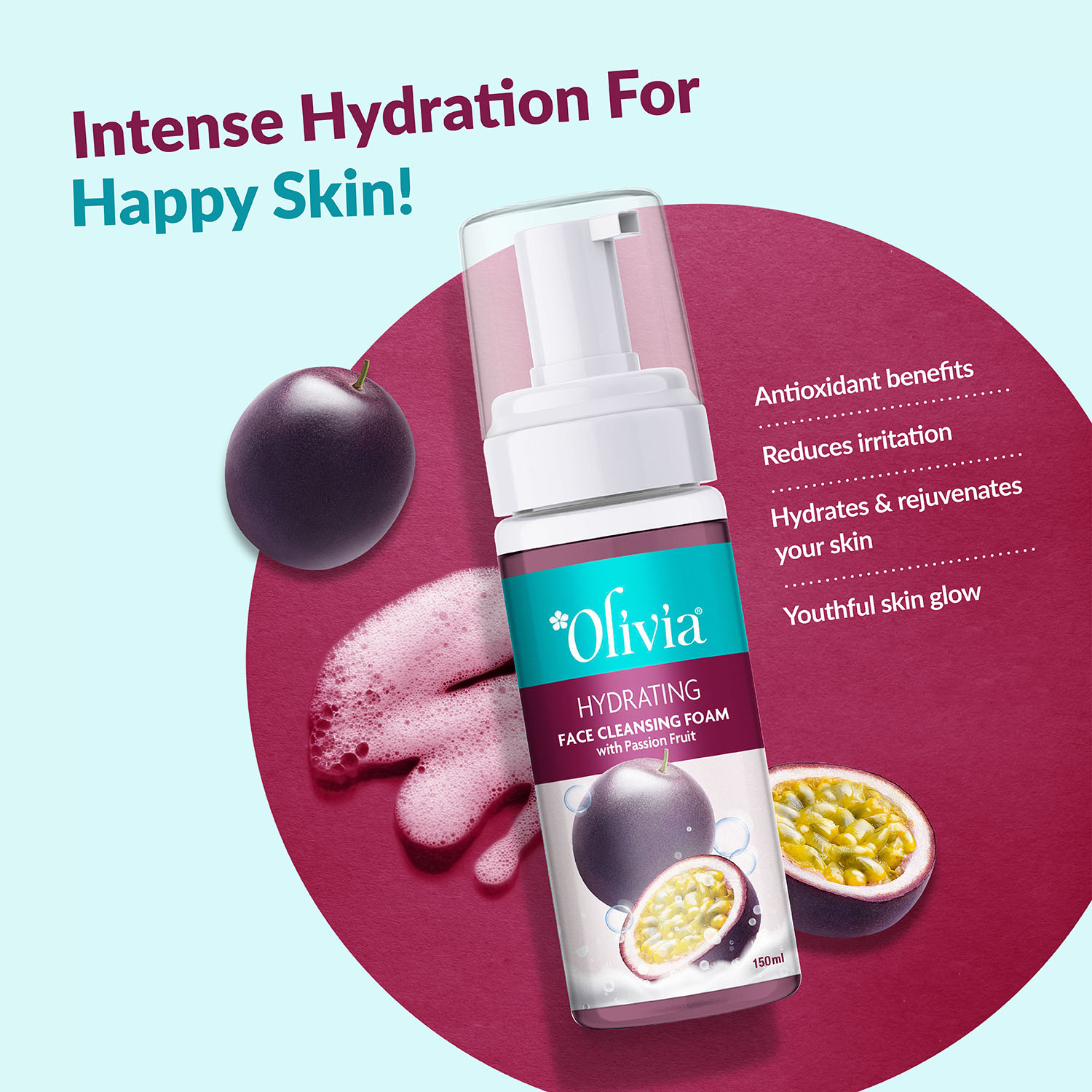 Much Needed Hydration For a Happy Skin!
Frothy foam enriched with the goodness of Passion Fruit –welcome to Olivia's Hydrating Face Cleansing Foam! Passion fruit is infused with amino acids, B & C vitamins, antioxidants, and it also has high anti-inflammatory properties. What's more? Only the goodness of natural ingredients, no harmful colour or harmful chemicals, no soap.
Antioxidant Benefits:  Enriched with anti-oxidants

Reduces Skin Irritation: Gives skin a relaxing, cool-pleasant feeling
Hydrates & Rejuvenates Your Skin: Passion fruit gives much-needed hydration
           Foamyyyawesomeness!
Olivia's Hydrating Face Cleansing Foam is infused with Passion Fruit. A rich source of Vitamin C, amino acids, piceatannol, and other nutrients, it is bliss for your skincare. It hydrates your skin and keeps it fresh and rejuvenated.
BENEFITS OF OLIVIA HYDRATING FACE CLEANSING FOAM WITH PASSION FRUIT
This cleansing form is a rich source of Piceatannol, which is known to produce collagen, a protein that prevents your skin from sagging and gives it a plump and youthful look.

Having antioxidant properties, it protects your skin's surface from the damage caused by free radicals and other harmful effects of pollution.

The moisture balancing cleanser effortlessly gives your skin the hydration it requires and brightens your complexion.

It also contains various amino acids like threonine, glycine, arginine, and many more that have anti-ageing benefits and promote younger-looking skin.
HOW TO USE OLIVIA HYDRATING FACE CLEANSING FOAM?
Wet your face with warm water.

Massage the foam all over your face and neck to cleanse your skin.

Rinse off the cleansing with warm water.

Pat dry your face.
FAQ's
How often should I use this facial foam?
You can use it twice daily - once in the morning and then at night.
How is it different from a skin toner?
A skin toner balances the pH levels of your skin while this cleanser thoroughly cleanses and hydrates your skin, giving you a youthful glow.
Can I use this cleanser if my skin is sensitive?
Yes. In fact, it works the best on dry and sensitive skin.

From when can I see the desired results?
In the case of natural products, you can get the desired results after consistent usage. Hence, we recommend using this cleanser for 1-2 weeks consistently and you'll be able to get results.