Tone Brightening Body Wash with Pure Curcumin Extracts
Olivia

Why settle for less when you have the power to get what you want?

 

There's a lot that can be said about a beauty brand. But in the present day and age, with the steady rise of the conscious consumer, nothing but actions will prove to be consequential. And that's what Olivia has been focusing on for over 2 decades.

 

We believe that a brand's true and genuine foundations lie in the principles it was brought to life on. For Olivia, ours is deeply rooted in nature and its bounty while we keep our eyes on the ever-expanding horizon of scientific and technological advancements in beauty. This foundation has evolved into a
permeative belief system that has guided us in the past and keeps steering us forward as we feed our curiosity about customer demands, market trends, and the
love of everything beautiful.

Now, we want to introduce ourselves for you to know us a bit better.
SKU:
Olivia-Curcumin-BWash-250ml
Curcumin Body Wash

Infused with Curcumin extract, this body wash gives you an instant glow. Its powerful antioxidant properties calm the irritated skin and help even out your complexion.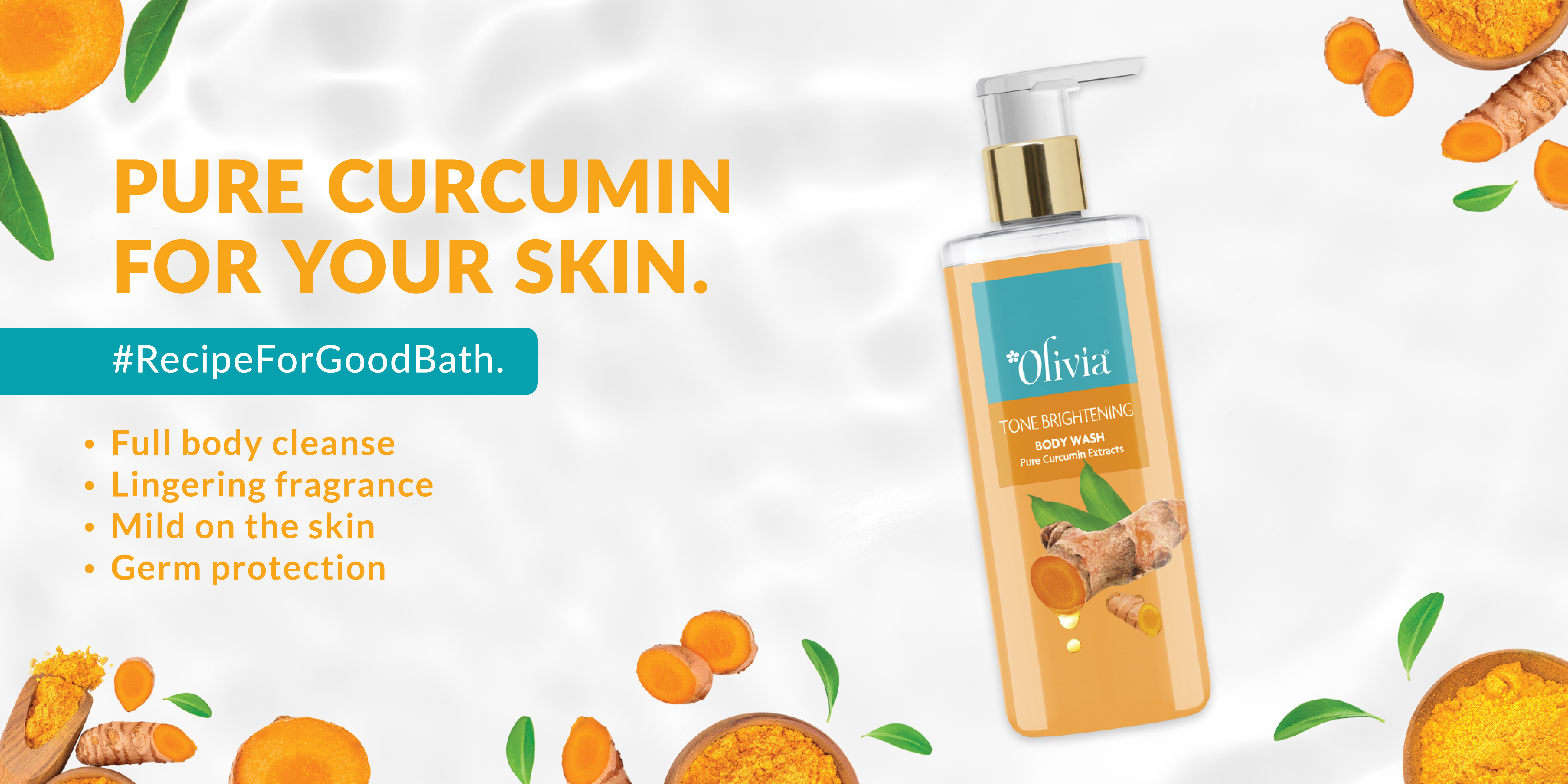 Curcumin Body Wash
An effective body care regimen starts with a complete cleansing of the body. So, cleanse your body the natural way! Olivia brings to you the goodness of Curcumin in a form of a multipurpose skincare product. With a lingering fragrance, this body wash is super gentle on your skin. Use Olivia Curcumin Body Wash regularly to stay beautiful outside!
Keep Away the Dirt, Welcome the Glow
Protects the Skin: Curcumin's anti-inflammatory properties protect the skin from acne and scars.

Imparts Skin Glow: Has powerful anti-oxidants that help lighten the skin and give you a radiant glow. 
Maintains the Skin: Curcumin nourishes the skin and always keeps it in good condition. 

 Infused With Natural Goodness
Curcumin is known to relieve inflammation and minimize acne scars. It has powerful anti-inflammatory and antioxidant properties.
Benefits of Curcumin Body Wash
Owing to its antioxidant properties, the body wash soothes your skin and helps you get an even skin tone.

It gives you an instant glow and nourishes your skin.

Regular usage of this body wash helps maintain skin health.
How To Use Olivia Curcumin Body Wash? 
Do a quick rinse to wet your skin.

Lather up with a few drops of Olivia Tone Brightening Body Wash, gently working your way from top to bottom in a circular motion.

Rinse off with water.
FAQs
 -Will it make my skin dry?
No. Since it contains curcumin extract, this face wash can be used daily and it gives your skin a natural youthful glow. It will not make your skin dry.
-Can I use this bodywash if I have oily skin?
Yes. This face wash is suitable for all skin types.
-Does it come with any side effects?
No. It has the goodness of natural ingredients. Hence, it has no side effects.
-What is the shelf life of this turmeric body wash?
It has a shelf life of 18-24 months.
Excellent Product
Beautifull product has an amazing herbal fragnance.