Skin Soothing Body Wash with Aromatic Kaffir Lime
Olivia

Why settle for less when you have the power to get what you want?

 

There's a lot that can be said about a beauty brand. But in the present day and age, with the steady rise of the conscious consumer, nothing but actions will prove to be consequential. And that's what Olivia has been focusing on for over 2 decades.

 

We believe that a brand's true and genuine foundations lie in the principles it was brought to life on. For Olivia, ours is deeply rooted in nature and its bounty while we keep our eyes on the ever-expanding horizon of scientific and technological advancements in beauty. This foundation has evolved into a
permeative belief system that has guided us in the past and keeps steering us forward as we feed our curiosity about customer demands, market trends, and the
love of everything beautiful.

Now, we want to introduce ourselves for you to know us a bit better.
SKU:
Olivia-Kaffir-BWash-250ml
                                                          Kaffir Lime
Kaffir Lime's antibacterial properties reduce dark spots, impurities and make your skin smooth, soft and supple.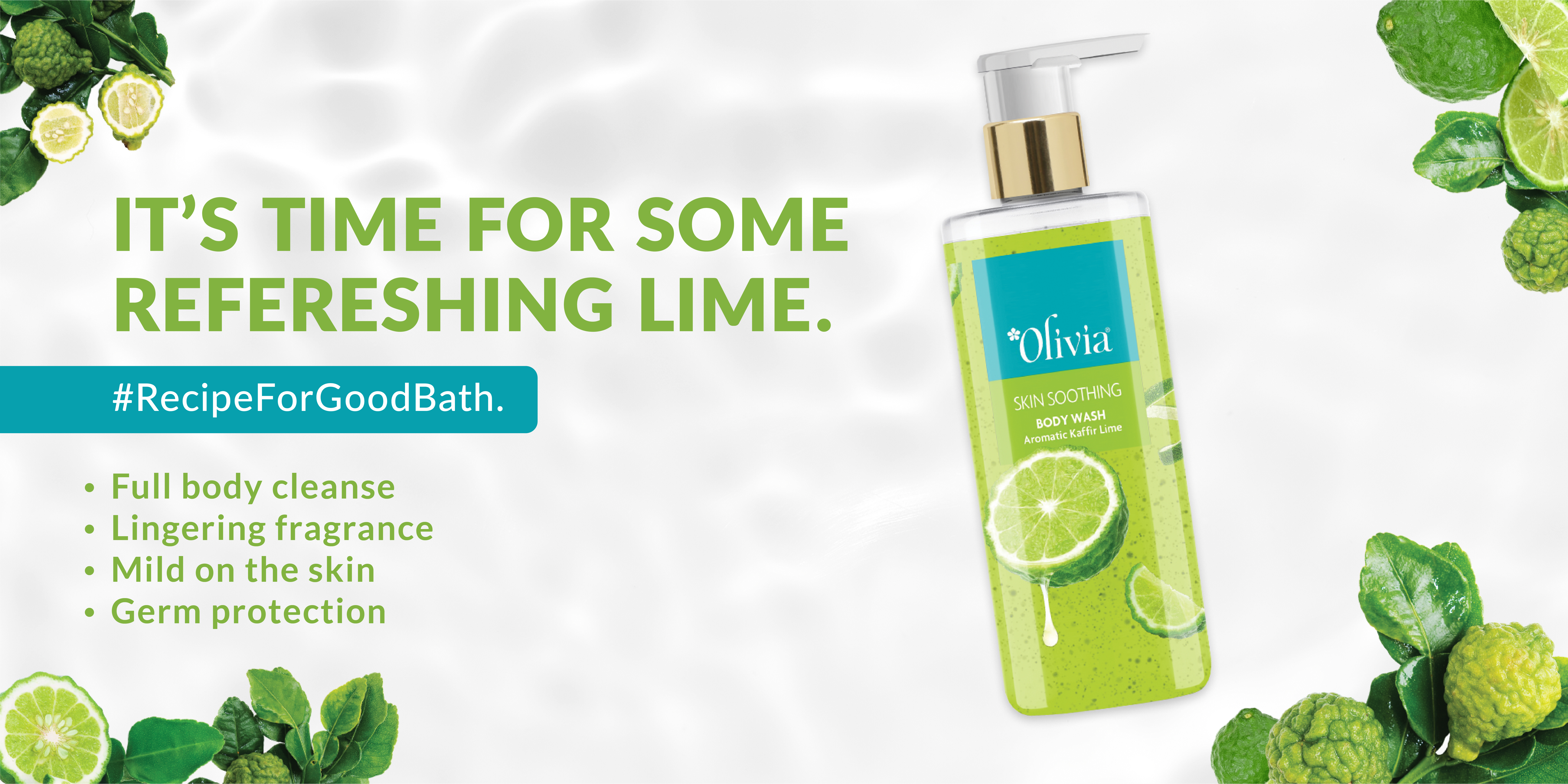 Skin Soothing Body Wash
Enjoy an incredibly purifying experience when you shower with this Kafir Lime body wash by Olivia that cleanses, soothes, and nourishes your skin. Enriched with the goodness of natural Kaffir lime, it provides your skin with the much-needed care and nourishment it deserves. What's more? The purity of ingredients and natural scent that will spellbind you! So, make our Kaffir Lime Bodywash a perfect addition to your shower essentials and let every shower be a powerful one!
Bye Bye Dirt, Welcome Glow

Soft & Supple Skin: Keeps skin moisturized, so it stays soft and supple always.

Alleviates Dark Spots: Has anti-inflammatory properties that help reduce the formation of dark spots and blemishes. 
Hydrates Your Skin: It is loaded with antioxidants that help keep skin moisturized. 

Infused With Natural Goodness
Kaffir Lime is a rich source of flavonoids, phenolic acid, and other essential oils that are good for your skin. It makes your skin soft, supple and keeps you fresh all day.
BENEFITS OF KAFFIR LIME BODY WASH
Kafir Lime is a rich source of hesperidin, a potent flavonoid that can brighten your skin and reduce the appearance of dark spots.

Regular usage of this body wash relaxes your body and deeply cleanses the skin.

Gentle on your skin, it nourishes, hydrates and protects your skin without making it rough and dry.

With a natural and refreshing scent of Kafir lime, organically sourced from Southeast Asia, our green coloured goodness is truly a blessing for your skin.
HOW TO USE OLIVIA KAFFIR LIME BODY WASH?
Do a quick rinse to wet your skin.

Lather up with a few drops of Olivia Tone Brightening Body Wash, gently working your way from top to bottom in a circular motion.

Rinse off with water.
FAQ's
-Can this body wash kill harmful bacteria?
Yes. It has germ-killing properties that help you get rid of germs and impurities.
-Can I use it throughout the year?
Yes. Our body wash is fortified with natural ingredients. You can use it in all seasons to give your skin the care it deserves.
-Who can use this body wash?
Anyone above the age of 12 years and above can use this body wash.
-When will I be able to see the results?
Natural products are only effective after long-term usage. You need to use this product consistently for about 10-12 weeks to get the desired results.